THE LADIES OF HOPE MINISTRIES IN NFL'S MY CAUSE MY CLEATS CAMPAIGN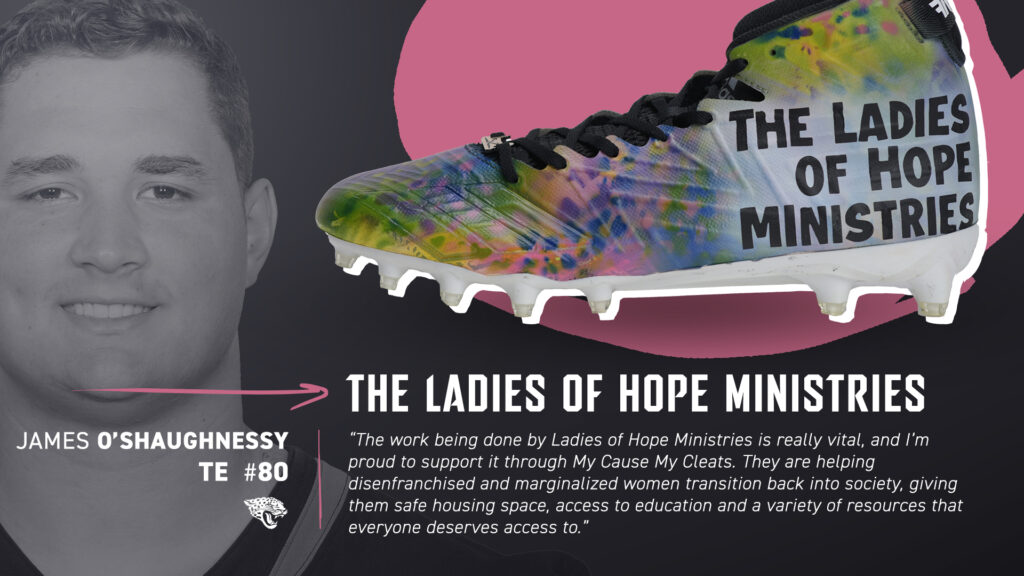 JACKSONVILLE JAGUARS JAMES O'SHAUGHNESSY REPRESENTS THE LADIES OF HOPE MINISTRIES IN NFL'S MY CAUSE MY CLEATS CAMPAIGN
"The NFL social justice movement allows me to think beyond my experiences, and that is why I chose The LOHM." -O'Shaughnessy
The LOHM Founder and Executive Director will be in attendance for Sunday's game between the Jacksonville Jaguars and Tennessee Titans
JACKSONVILLE – DECEMBER 11, 2020 – James O'Shaughnessy, veteran tight end for the Jacksonville Jaguars, will join more than 1,000 fellow NFL players participating in this year's My Cause My Cleats campaign, an initiative that allows players to raise awareness about a cause that is important to them and represent their chosen organization on custom designed cleats. O'Shaughnessy's custom cleats for Jacksonville's game against the Tennessee Titans on Sunday, December 13th, will be supporting The Ladies of Hope Ministries (The LOHM), which aims to end poverty and incarceration of women and girls.
"I am very honored and appreciative of the support The LOHM has received from the NFL and players such as James," said Topeka K. Sam, Founder and Executive Director of The LOHM.
"Exploration of poverty and criminal justice reform will impact mothers, daughters, significant others in the NFL community, and families nationwide. There are 70 million people with criminal convictions in this country. I believe in dignity, respect, and forgiveness, and Topeka and her team ask us to lean in, listen, and learn," said O'Shaughnessy.
O'Shaughnessy's custom cleats will be auctioned off and 100% of the funds raised will be donated to The LOHM. Fans may bid on the cleats at http://nflauction.nfl.com.
About The Ladies of Hope Ministries
The Ladies of Hope Ministries' (The LOHM) vision is EPIC: End Poverty and InCarceration of Women & Girls. https://thelohm.org #RewritingHerStory #MyCauseMyCleats