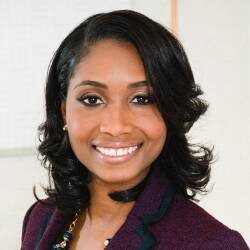 TREASURER OF THE BOARD
CHIEF OF STAFF, JPMORGAN CHASE & CO. FOUNDATION
Faith Leach is the Chief of Staff at the JPMorgan Chase & Co. Foundation, a global leader dedicated to driving inclusive economic growth in communities worldwide. The JPMorgan Chase & Co. Foundation made a commitment in January 2018 to invest $1.758 over the next five years to strengthen workforce systems, revitalize neighborhoods, grow small businesses, and improve the financial health of individuals. Faith also supports the JPMorgan PolicyCenter in advocating for federal and state policy changes to remove barriers to employment for individuals with criminal backgrounds.
Faith has spent the past decade working to address key drivers of economic inequality experienced by vulnerable populations in cities across the country. Prior to joining JPMorgan Chase & Co., Faith served as the Chief of Staff to the Deputy Mayor for Greater Economic Opportunity under DC Mayor Muriel Bowser, where she provided strategic oversight and direction to a cluster of government agencies focused on connecting residents in overlooked and underserved neighborhoods with jobs and skills training, growing local entrepreneurs and promoting equitable, community-centered economic development in rapidly gentrifying neighborhoods. While in the Mayor's office, Faith led efforts to combat an uptick in community violence and was instrumental in developing the ASPIRE to Entrepreneurship Program - the city's effort to promote and support returning citizen entrepreneurship.
Experiencing first-hand the destabilizing impact of growing up with two incarcerated parents, Faith leverages her experience to advocate for formerly incarcerated women and children with incarcerated parents. She serves on the Board of the Ladies of Hope Ministries (NY) and is an Emerging Philanthropist with the Women's Prison Association (NY). Faith is also an Ambassador with the Smithsonian National Museum of African American History and Culture.