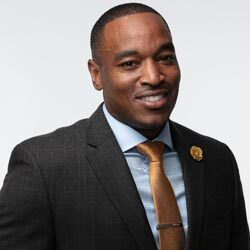 Founder and Executive Director of M.A.D.E. Transitional Services
Toney Earl, Jr. is the Founder and Executive Director of M.A.D.E. Transitional Services, and his passion is deeply rooted in the creation of this organization. Having witnessed firsthand the difficulties of the transition process with limited agencies equipped to assist the formerly­incarcerated population in the lower Hudson Valley area of New York, Toney identified an area of need and formed M.A.D.E. Transitional Services.
Today, M.A.D.E. provides assistance to individuals across the New York City area and in northern New Jersey who are reentering their communities after incarceration. M.A.D.E.'s pre and post­incarceration services include job readiness, job placement, intra-correctional facility programs, transitional housing, and career integration. As part of M.A.D.E.'s advocacy work, Toney serves as M.A.D.E.'s spokesperson on reentry and at-risk youth issues. He has joined several panels where he discussed the benefits of employing the formerly incarcerated, workforce inclusion, reentry challenges and solutions, reentry policy, and other social justice and restorative justice issues concerning the formerly incarcerated. In partnership with MindOpen Learning Strategies, M.A.D.E. facilitates a Fair Chance Hiring curriculum to educate business leaders and talent professionals on best practices for fair chance hiring and retaining non-traditional candidates including those with criminal backgrounds.
Toney was appointed a Social Justice Fellow as part of the inaugural Beyond the Bars Justice Leadership Fellowship 2014-2015 cohort at Columbia University's Center for Justice in New York City. This Ivy League, interdisciplinary leadership program brings together a diverse group of fellows to enhance leadership in social justice work, while uncovering the causes and consequences of mass incarceration. He now serves as Co-Chair and Engagement Lead of the Reentry Accelerated Program (REAP) Business Association at the Tamer Center of Social Enterprise at Columbia University's Business School where he helps REAP foster collaboration between academia, nonprofits, government, and the private sector to develop innovative solutions for expanding workforce inclusion for the formerly incarcerated and individuals with a criminal record.
Toney Earl, Jr. is an Offender Workforce Development Specialist (OWDS), certified by the New York State Department of Criminal Justice. He attended Lincoln University in Oxford, Pennsylvania where he studied business administration and is a certified professional coach.
Toney has been recognized by New York Nonprofit Media as one of 40 under 40 rising nonprofit leaders in New York City making an impact in nonprofit work and named one of 50 People to Know by New York's WCBS 880.